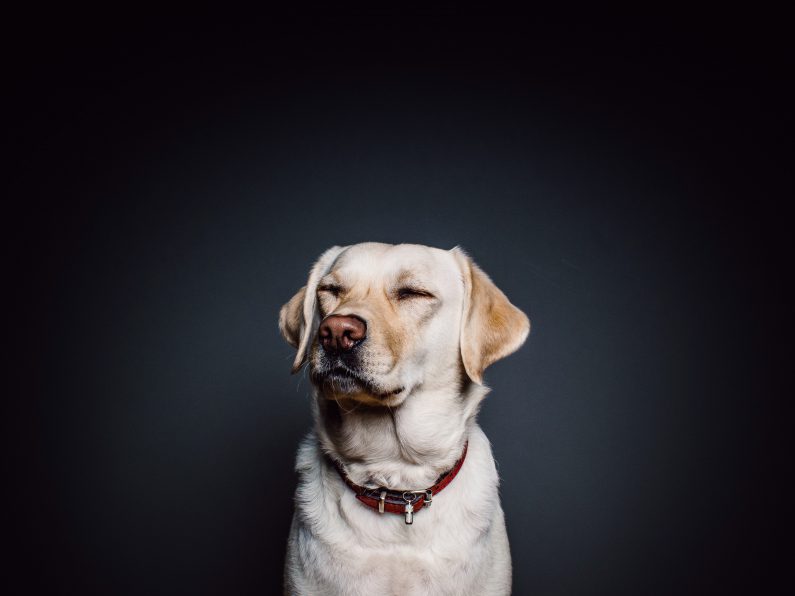 Helloooooo buns! Welcome!
These last few months, among all the dresses, the shoes, the blog, happiness and joy there has been this small, little detail. I have to get a surgery operation (noooooooooo). The days have passed and soon I'll be posting pictures from the clinic's room 😛 .
For the history, I had this very same operation back in 2011 and I'm familiar with the procedure, the post-surgery rehabilitation and actually this whole thing appears like a bad Deja-vu in my mind. Mainly because back in 2011 I had to stay in bed for a couple of weeks and it took me like a month or so to be able to sit down or walk properly. So since February, when I got the "happy" news of  going through the same shitty period again (in case nothing gets different this time), I've been pretty much preparing myself for a long period of whining, moaning and bitching in general (good luck Stergios & mom) 😛 During these months I've been trying not to think about it, I've been 'playing' the whole procedure in my mind so I get myself prepared, I've been thinking that I need to be mature about it and evaluate the health benefits after that etc etc. But this last week before the surgery I feel that I just need to express my fears and my worries about the whole surgery and take those thoughts out of my mind, share them with my family and set them free so they don't get bigger in my mind with no actual reason.
Aaaaand being in that state of mind I decided to pack my clinic bag with some pretty things that sparkle joy (you say it Marie!) 😀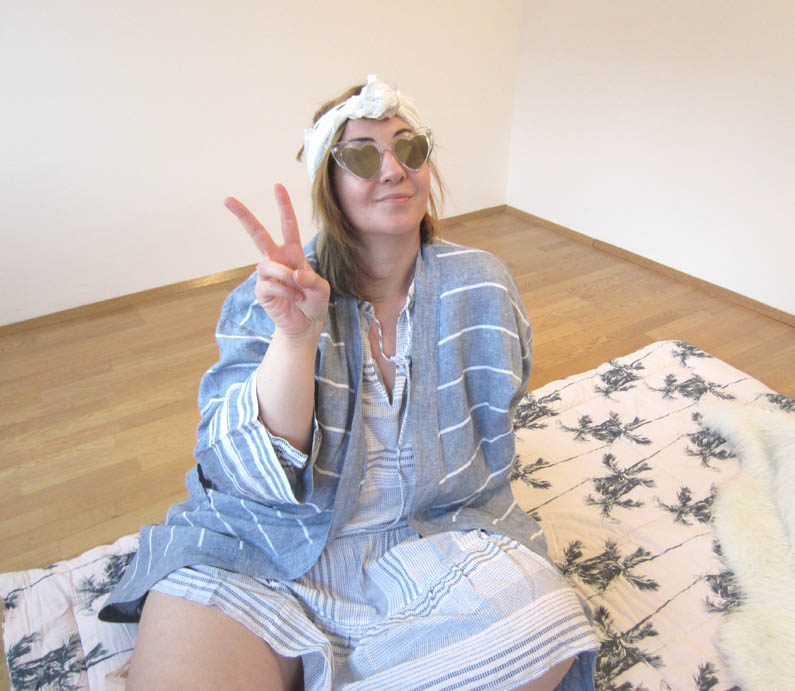 the MONKI bralette easily worn as a headband
So, first thing first I needed a bathrobe and I've always had my eye on these linen ones by H&M! I got mine in a nice blue striped pattern that I love cause it's fresh and summery and I'm gonna use it a lot during summer! I love it! I got it in size L/Xl and it fits perfectly.
Then I needed a nightgown and not pajamas. I sleep in t-shirts so I had to buy a nightgown 😛 I saw a lot of them in the classic cotton versions but they weren't fresh or airy enough and anyway didn't make me happy. And then while I was at H&M looking for the bathrobe I saw this summer dress calling me from its rack 😛 The material is cotton but light and soft, it's airy enough and not very short! I don't care that it's not an actual nightgown, it's more like an 'I like it I wear it' situation. It makes me feel pretty and it's coming with me into the bed of pain 😛 .
I found few amazing bralettes as well, so I feel comfortable while moving around in a nightgown. This is an amazing romantic one and this mesh one I got it in both black and beige and they fit greeeeat! All by Monki, they have a 'Get 3 pay 2' thing running over their underwear collection these days so you might want to think about it! And considering my Bra size is EU 90F (US 40DDD, GB 40E) these bralettes fit quite well!
Also I have this summer rubber slippers by FILA . They are coming with us too.
And theeeeen I decided to take some of my favorite beauty products with me just in case I am able to move ahhahaah. No it's not the highlighter and my mascara.
I packed my all-time favorite facial Cleansing Balm ever. I found it in ASOS and I use it everyday. I love love love it! The brand is called Yes To and they have a lot of skincare products. I've only tried this one and I am very  surprised of how a balm works that good on my skin and there is no feel of oilness after that. Basically you dampen the sponge that comes with it and then you dip it into the jar and scoop out a small amount of balm, you rub the balm all around your dry skin (face and neck), you massage your face gently and then you add water to the sponge so you rinse and wipe the skin clean! Smooth and moist glowing skin! So hopefully with a little help from my mom I will be able to do that while being in bed 😛
Then I'm packing my day and night face creams. I use these ones by Avene. I'm very happy with their products. I know Avene since I had acne issues and the dermatologist suggested it to me.
I also packed a foam body lotion by Bilou .Bilou's philosophy is "All of our bilou products are full of "love & passion". Unconventional fragrances to sweeten your day and make life more beautiful. All bilou products are made with lots of love and we take particular care to use good ingredients." I've never tried its products before so I will let you know how it goes! But it smells nice and it feels kinda fresh (just don't use a big amount of it). It's in foam form and when you apply it on your body its texture feels like body cream but lighter. I got the Snow Rose and the Cherry Kisses !
The clinic beauty kit also contains (just in case you go through the same thing at some point) baby wipes, towels, socks and underwear, my roll-on deodorant so I don't spray onto other patient's faces, toothpast-toothbrush, headband for bad hair days, rechargers and the tablet 😛 Did I forget something? Let me know below!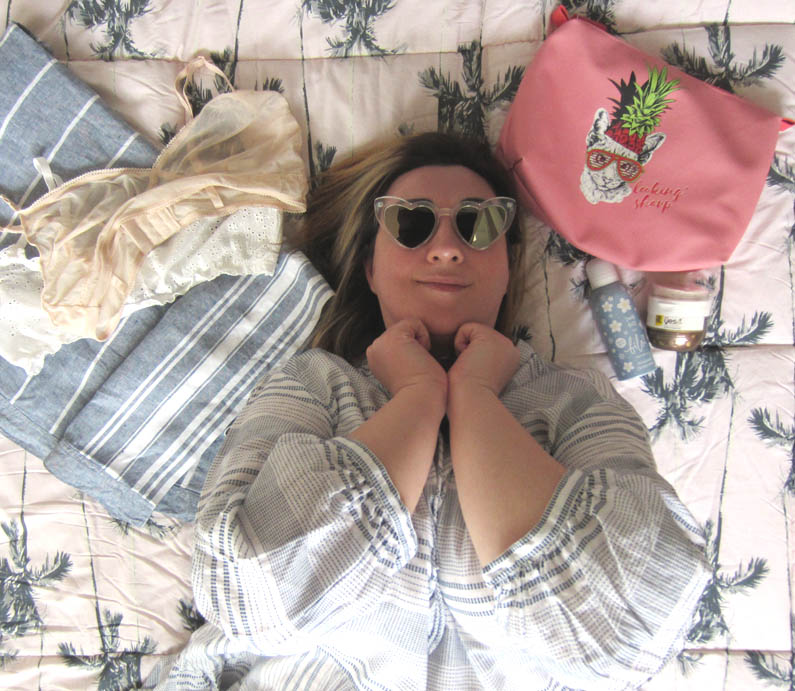 wwwhhhhheeeeeeee!!!
Also when your friends love you and are amazing people and when they are fans of your blog then they send the essentials for you to keep blogging and getting organized, even if you are in a hospital bed. That's the case for my baby Dimitra, my friend from far far away - California- who packed a box full of joy and love and sent it to me <3 <3 <3 You'll get to know Dimitra and her magic hands better later in a post of mine because she is SO SO talented (shhhhhhs that's all for now), but now I need to say that this girl has so much love in her heart which reaches you even that far away!
So Dimitra sent me a sunny notebook so I keep my thoughts while I'm offline, a sailormoon charm to keep me happy :D, "unicorn and flamingo and everything nice" paper clips so I don't get lost in my thoughts, a happy kitty pen to meow meow the best of my thoughts, an amazing set of 18 colors Journal Planner Fineliner Pens (and I didn't even have to tell her that I love fineliners) so I draw hearts and abstract symbols on my notebook (as I always do), a selection of the cooler stickers ever, Deadpool of course and my beloved professor Severus Snape (plus bows and cupcakes cause they are never enough). And of course a 'strawberries in dark chocolate' chocolove cause that's the best way to love a strawberry and me 😛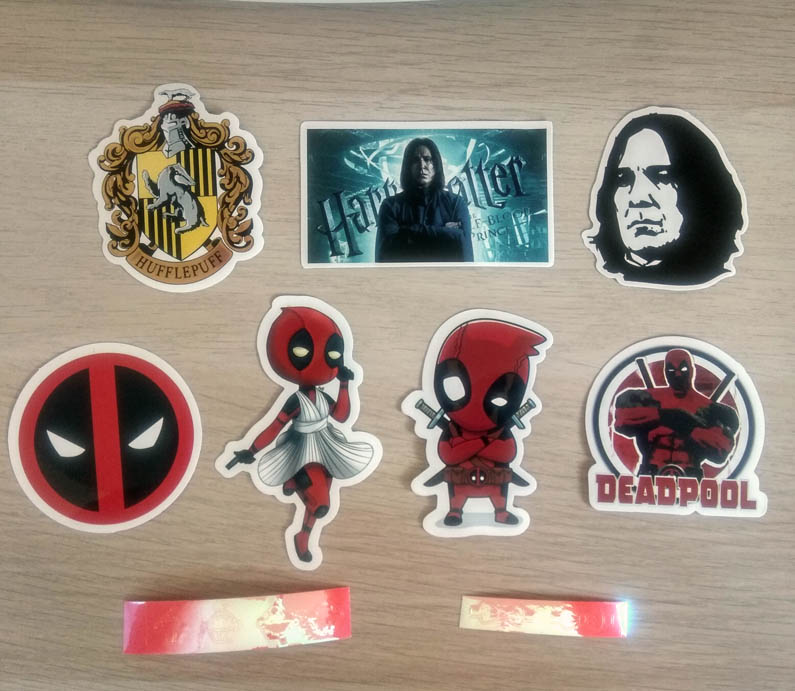 love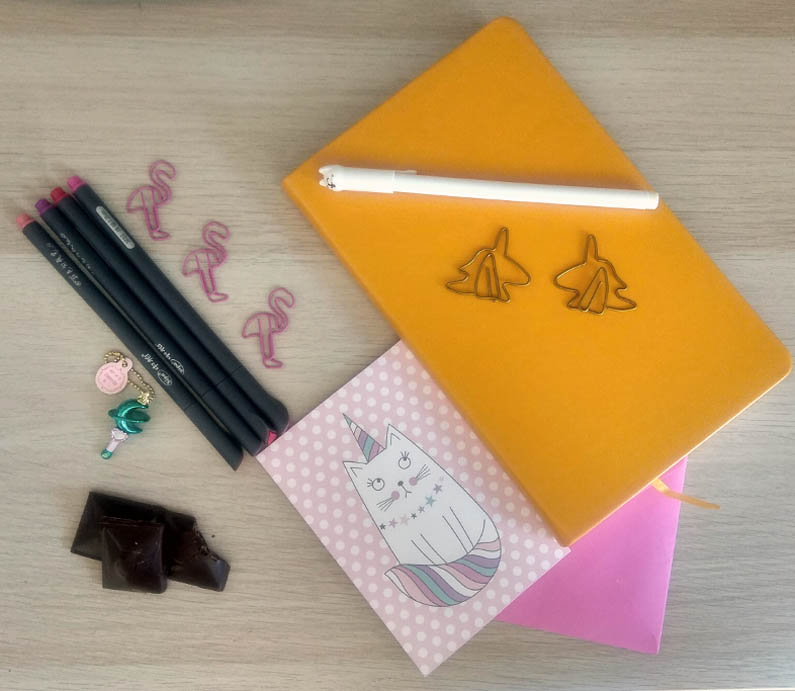 love
Weeeeell, bottom line, I don't know how my mood will be after the operation. I will probably moan and complain because people don't change hahahaha! But now at some level I feel a little bit more optimistic. Let's see if clothing and objects that we like are just enough to brighten your mood in a hospital bed and make your staying a bit more bearable! Now, that's an experiment my buns 😛
Thank you for being here with meeee! You could always push the small bell button to get a smaaaaaaaall notification message everytime a new post is online!
I cyber pat pat your heads till next time we meet again!
Byyyyye!!!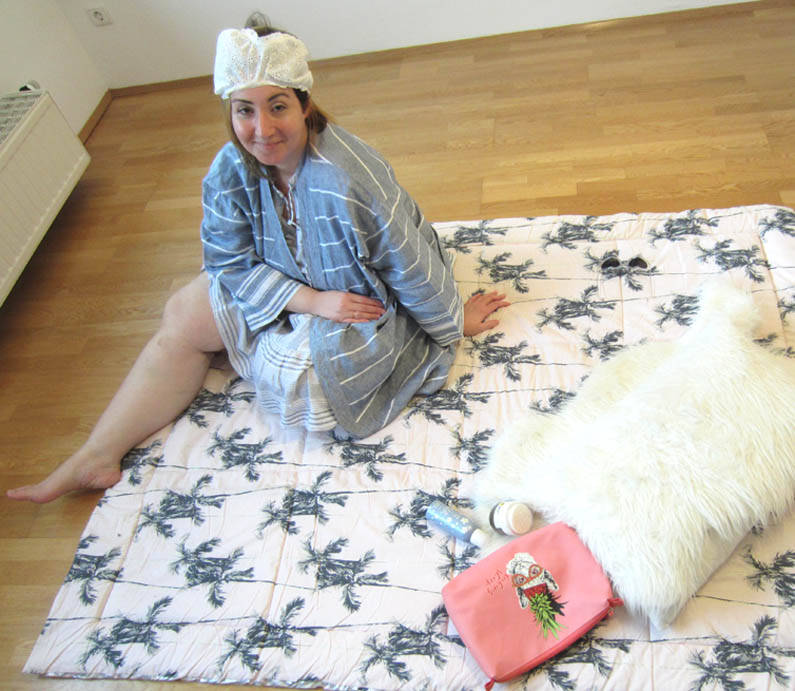 backstage