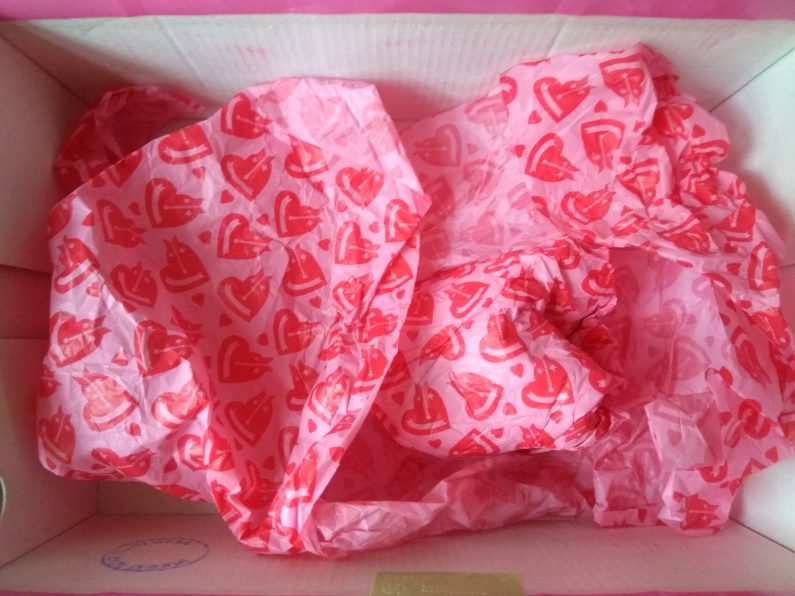 Helloooooo buns and welcome to my new Project !
Let me tell you what's all this about and why I decided this to be a whole New Project.
The story behind.
 Few months ago (back in 2018) my Best Man texted me the link of those amazing Unicorn Glittery Flats. If you know me at all, you are already aware that I own a small farm of unicorn items in my house (that's a whole another post for you so let's wrap it up here).
I logged in the site in order to check the size availability for those Flats and theeeen...of course I went through the entire collection which was also on sales (you know what this means)!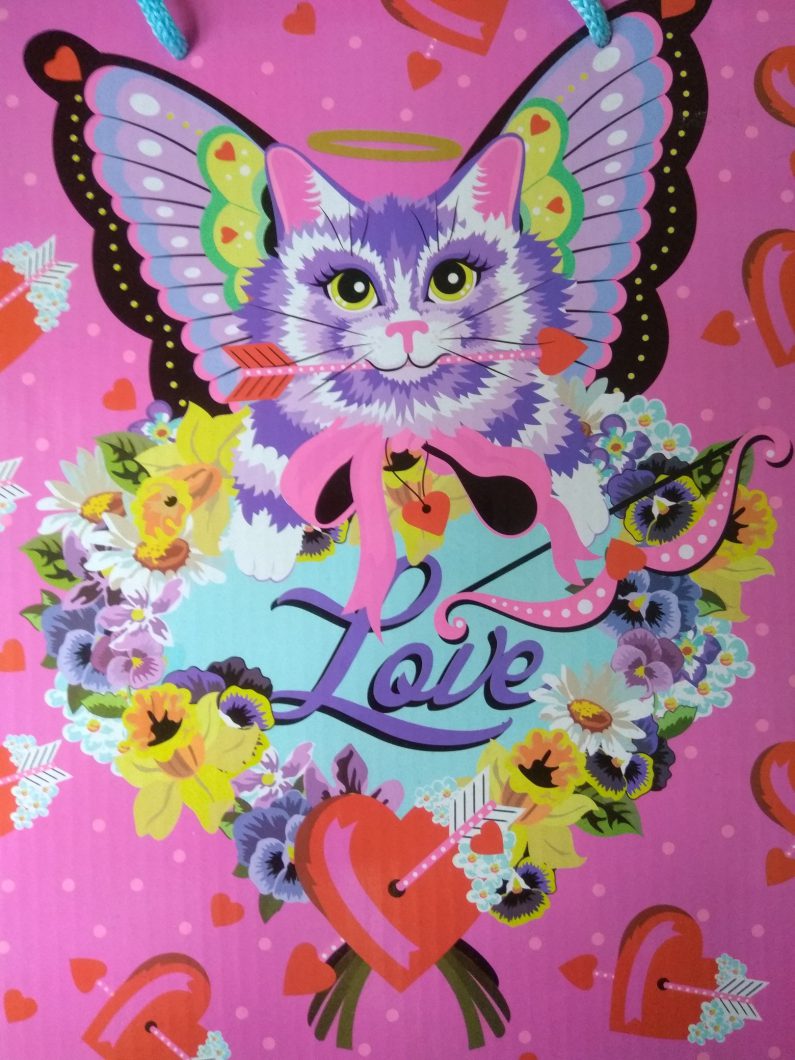 the box
At this point I have to inform you that it's kinda difficult for me to find a pair of shoes in my size (EU 42,US 11,UK 9) soooo when I found a huge selection of designs on this site I was tempted to buy my Summer Baptism pair of Pumps right there!
" Wait,what? Did she say Summer Baptism Pumps?.. wtf is that?! :> "
 The event. 
Ahh yeah...few more things for you to catch up with...Let me explain.
Back in Greece where I come from I have my Bff from University, Elisabeth, who has two smart, adorable, sweet and round-cheeked babies <3 (that was a heart back in IRC age). I love them!
In 2017 Rafaela was born and I was her (Fairy I believe ) Godmother !
Last year my friend gave birth to our second round cute sweet baby and she asked me to baptize her as well so the girls have the same Godmother. (I'm sooooooo touched from all this love !!).
In case you are not familiar with an Orthodox Baptism let me give you some important, essential details for you to know in order to follow up our little Project.
it takes place in a Church
there is a Priest who performs the ritual
there are lot of guests dressed up and ready for pictures taken
it's me -the Fairy Godmother- carrying the babygirl around
it's gonna be the end of June in Greece (temperature is approx. around 30+C degrees / 86+F degrees)
most of the times if you are not appropriately dressed and 'approved' by the Priest you get to have him complaining / kicking you out / not performing the ritual cause of lack of modesty (oh well)
so anything mini, backless, showing off huge amount of cleavage, or anything that the Priest might find 'quite nude' or not 'covered' enough is a no no no.
it's an official-ish kind of event.
it's gonna take place on a Sunday morning, so the outfit can't be anything 'Grande'.
there is usually -especially the last decade- a 'theme' for such kind of events. That means the decoration, the color palette and the style in general are all according to this 'theme'.
we haven't decided a theme for this event yet and I don't really know if there is actually gonna be a theme, but we agreed that something summerish and flowery and fresh would be ideal for a summer Sunday morning event.
So, now you know SOME of our Project conditions / factors!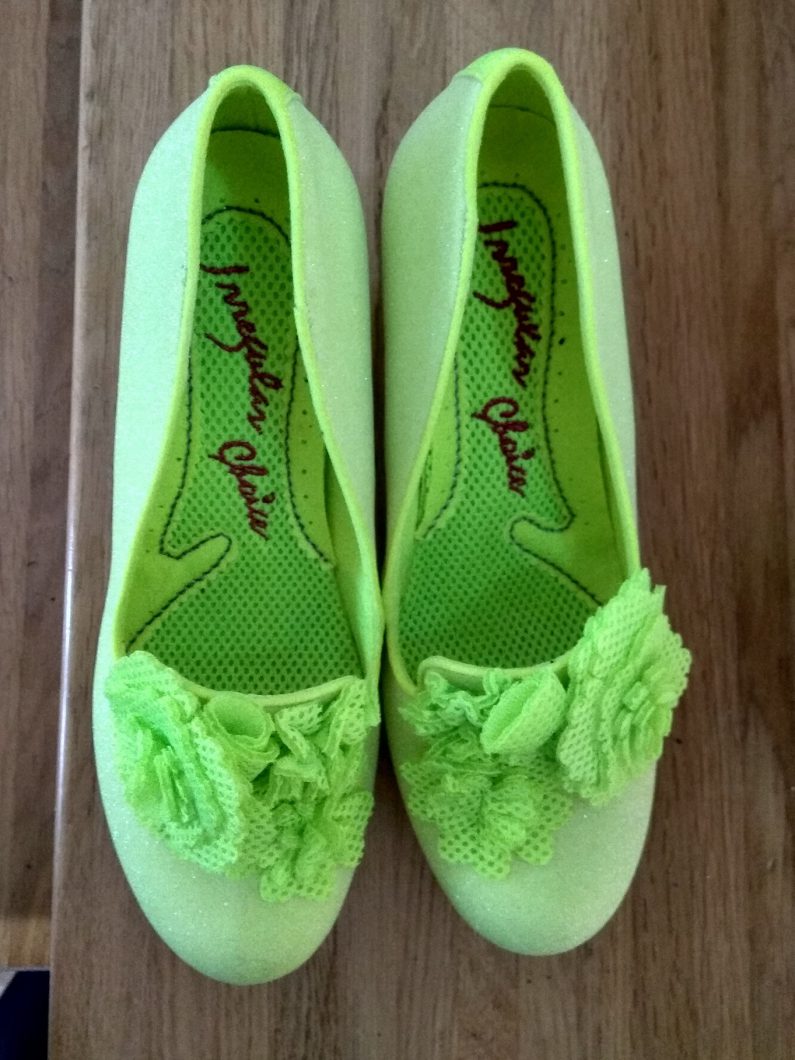 Yeah.....I dunno what you think of those, if you like them / hate them / love them / wanna paint them black (please leave your opinion in the comments down below!) but I found this pair of Pumps kinda fresh and sharp and decided this to be the statement piece of my outfit.
The color is definitely bold, neon, (some people refer to it as neon green and some call it neon yellow).There is definitely a lot of glitter, the heel is in a very good height for me because I can't walk on higher heels, and the fitting is amazing -not smaller not larger than the average 42 sizing.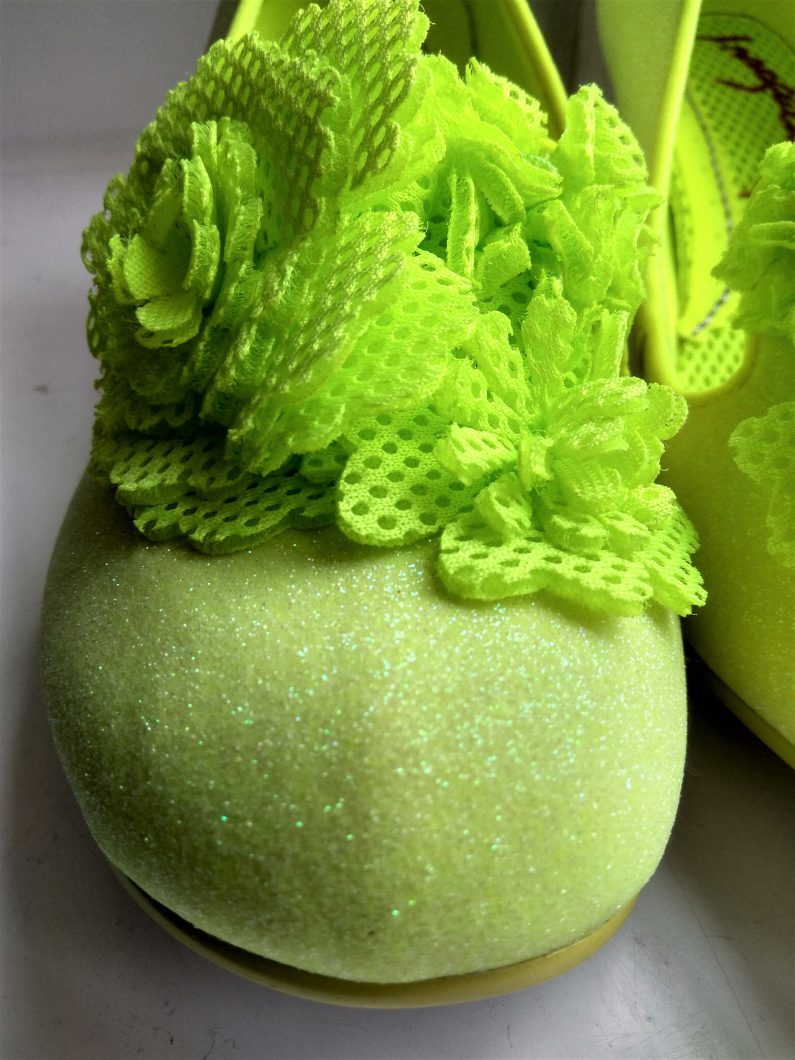 close up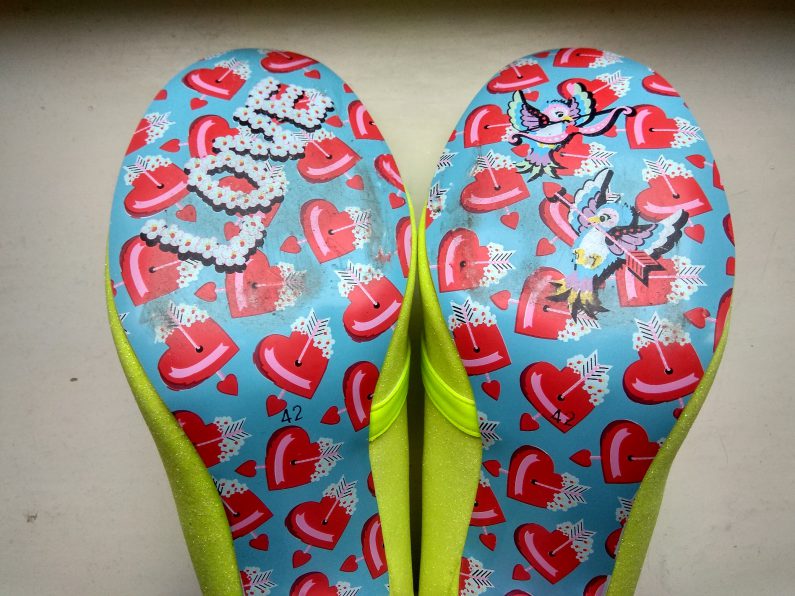 i love the detail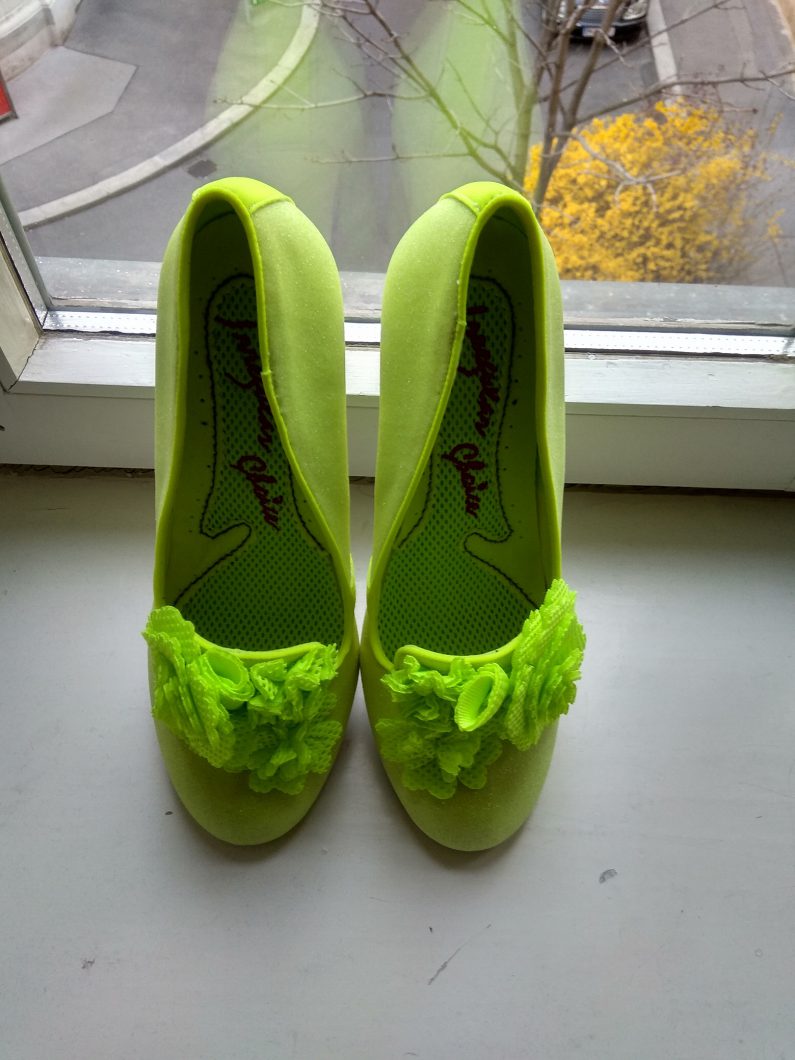 trying to be artistic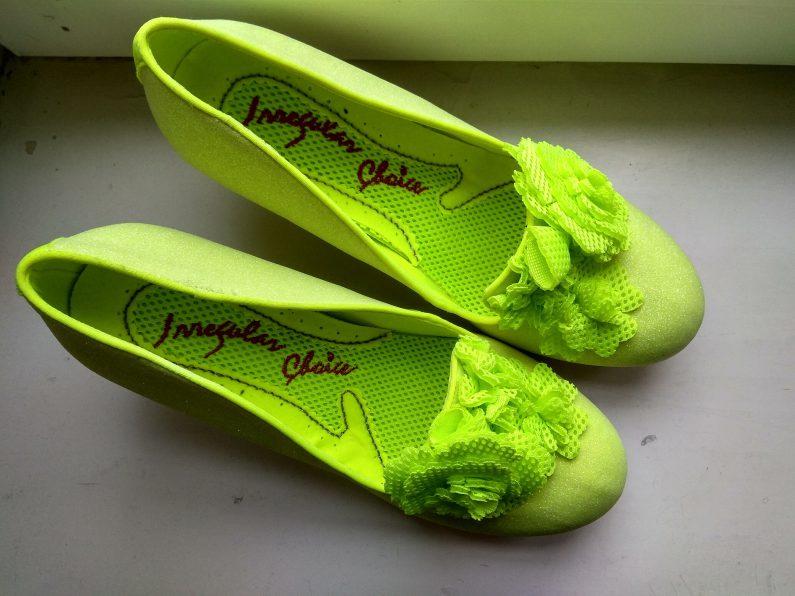 is it yellow or green??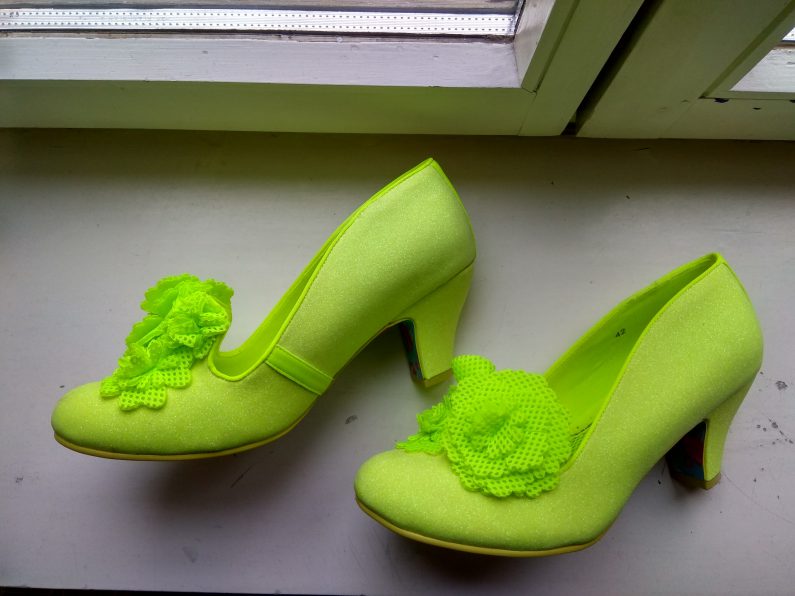 tok tok
The Project.
So now I need to find the appropriate dress for my shoes. Yay!
As you can see by my pictures on the 'Yo' page I am a curvy girl, I got my hair blond-ish recently and I enjoy experimenting with my style. I feel a bit uncomfortable in a preppy dress and I believe my figure looks better in a midi or long hem dress.
So I would go for :
a midi or long dress.
I would prefer its design to be kinda open on the upper part bust area.
and oh, I have a tattoo on my arm which ideally would like to cover during the ritual (so the Priest won't complain or ask me what's all about etc etc).
Why I find this project interesting?
I am curious how many different styles and outfits we could match to those maximalist style shoes.
Also I would like you all to suggest dresses, different styles and forms, or maybe dresses that you are just curious to see how they are paired with those pumps and a curvy girl!
That's how YOU ALL get to play with the 'Barbie the Godmother'  doll.
Sure it's an adventure for me to be a barbie doll and try lots of dresses and find the best style,the best fitting, and the event-appropriate one so I can eventually wear it on this social event of mine.
BUT 
it's even more fascinating to have a dialogue over this theme with all of you, different people,different styles, you all bring your points of view over the subject so we get this Project through.
I have my own style and my comfort zone and this is great but I wonder what if there are other outfits and style combinations waiting for me to discover?
 Be a part of this Project by:
sending me links of online shops that you know they try to keep their curvier clients happy 💌.
commenting underneath each outfit  🗬
suggesting dresses / accessories / hair and make up   😸😺😼😻
LET'S GET THIS PROJECT STARTED!!