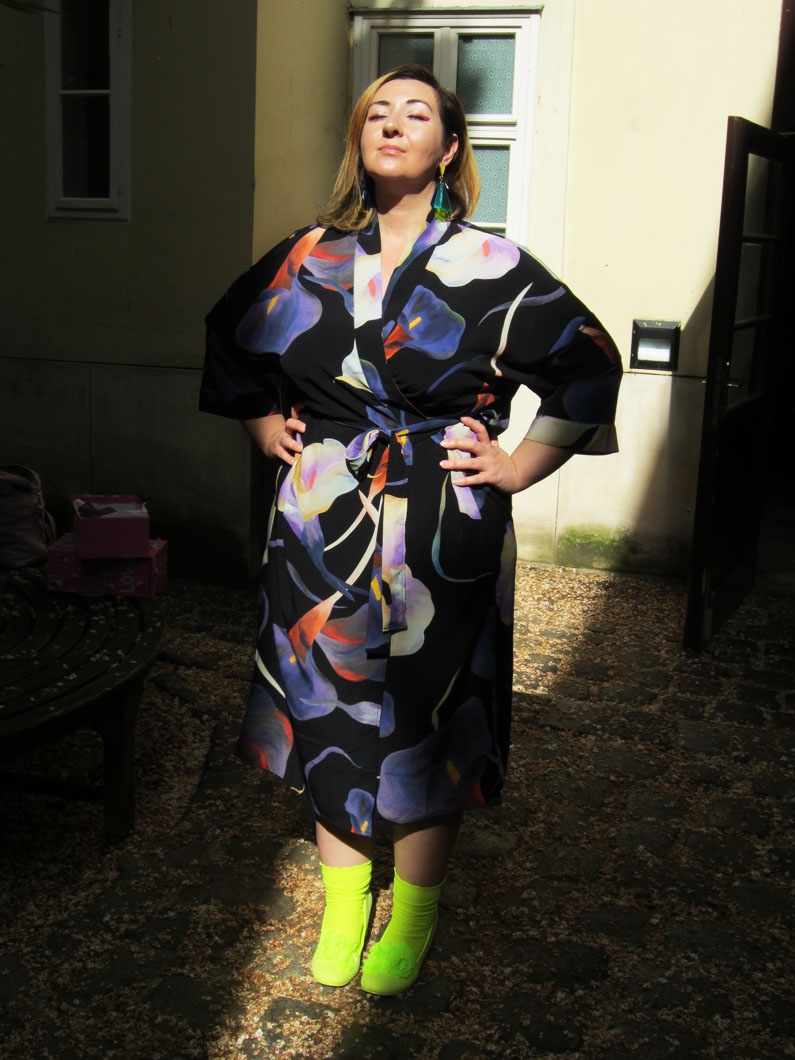 Helloooooo buns!! Welcome!
I know I haven't posted for a long time now BUT I'm here today with a new dress! The Neon Pumps Project is still on and I have 3 more outfits to come during the next few weeks (I'm still waiting for them to be delivered).
So let me remind you that the event, for which I started the Project at the first place, is taking place at the end of the June! So I pretty much have four weeks to choose THE dress to match my Irregular Choice Neon Glitter Pumps AND accessorize the outfit AND take pictures for you to see!
With all that said, I present you the next dress that caught my eye and I love its design. The Kimono Dress!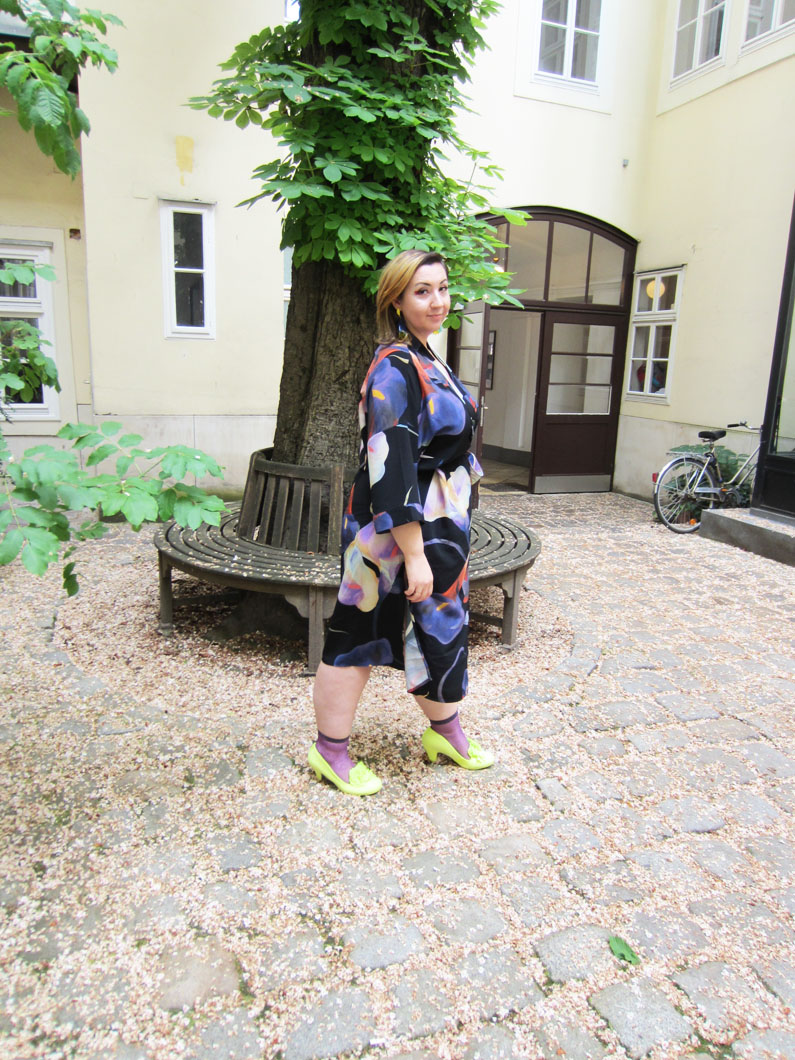 The Kimono Dress by Weekday
So this dress comes from WEEKDAY 
I actually found it in their store in Mariahilferstrasse. I visit the shop often so when I saw this dress - which was on sales!- I fell in love with its colors and the way it fits. I got size L and its good. I couuuuuuld size up but L is their bigger size. The purple glitter shocks that I wear in the first picture are also by WEEKDAY and they have them in many colors. I like the purple cause it is kinda binding the dress to the shoes. Let's point out that Stergios didn't like the lenght of the shocks, or the color contrast...something was off there for him anyway hahaha.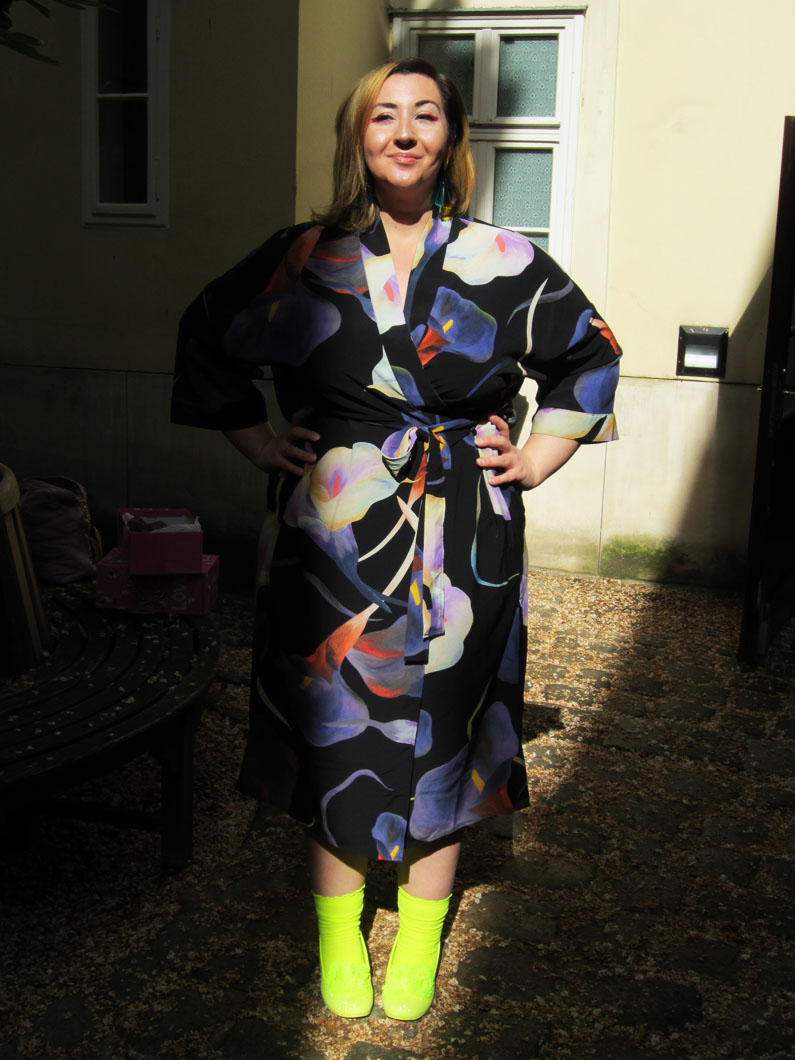 The Kimono Dress by Weekday & lime shocks by Monki
I was obsessed though with the idea of wearing this dress and shoes with shocks and I bought few different patterns to try. So apart the WEEKDAY purple shocks I also got these pairs by Monki. The animal print and the lime shocks where in promotion you get 3 pairs and you pay 2 so I also got some other designs for future use into other outfits. What do you think of the combination? (Btw, Stergios prefered the lime ones by far).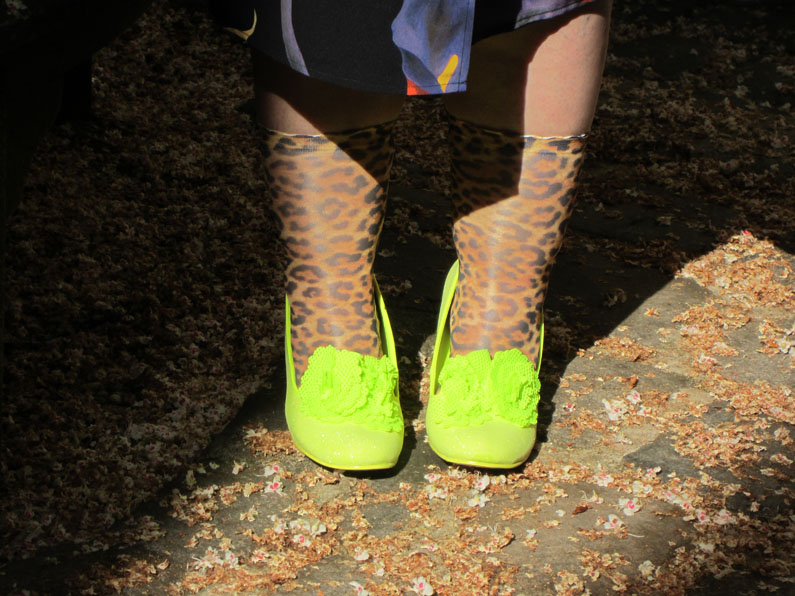 Animal Print Shocks By Monki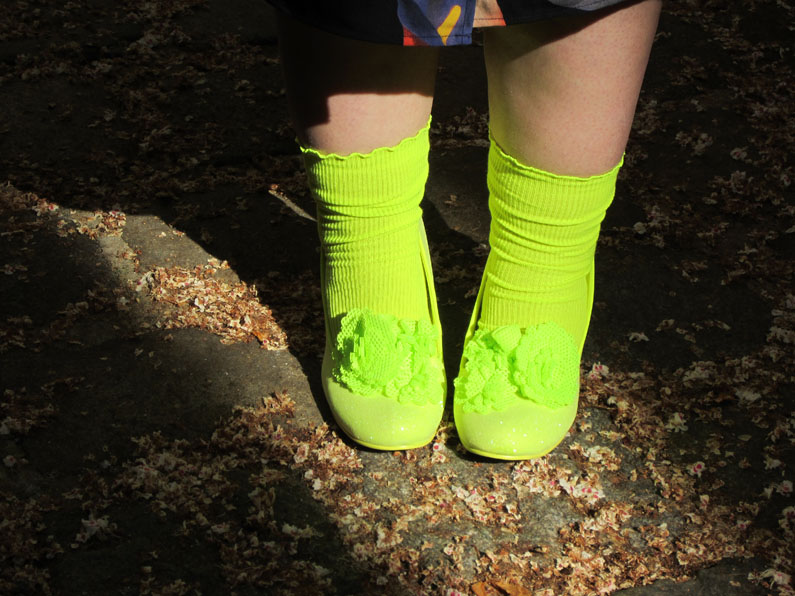 Lime Shocks By Monki
Ok I got the dress, I had the socks, and I needed the accessories! So let me tell you a little backstage story.
At first, I was looking for a specifiq hairpiece by Zara, the Rhinestone hair clip, but I couldn't find it in their shop and I didn't have the time to get it online and wait for it to arrive, so I had to go with a plan B, earrings.
I also found these Diamond Toucan earrings at Zara which I liked at the moment but they were kinda BIG and I thought that if I don't find something else I would probably get them, get my hair in a bun or something so you can see them etc.
So after wandering to the shops I got into Bijou Brigitte at Mariahilferstrasse, and I couldn't find a hairpiece similar to Zara's one buuut I found the earrings for the outfit.I have to say, I loooove these earrings. They have lots of variations and similar designs in their website, Bijou Brigitte if you want to check it.
What I love about my earrings is how the sunlight goes through the colored material and reflects the colors on my skin.You can see that in the pictures, a great combination to the sunny day and the outfit!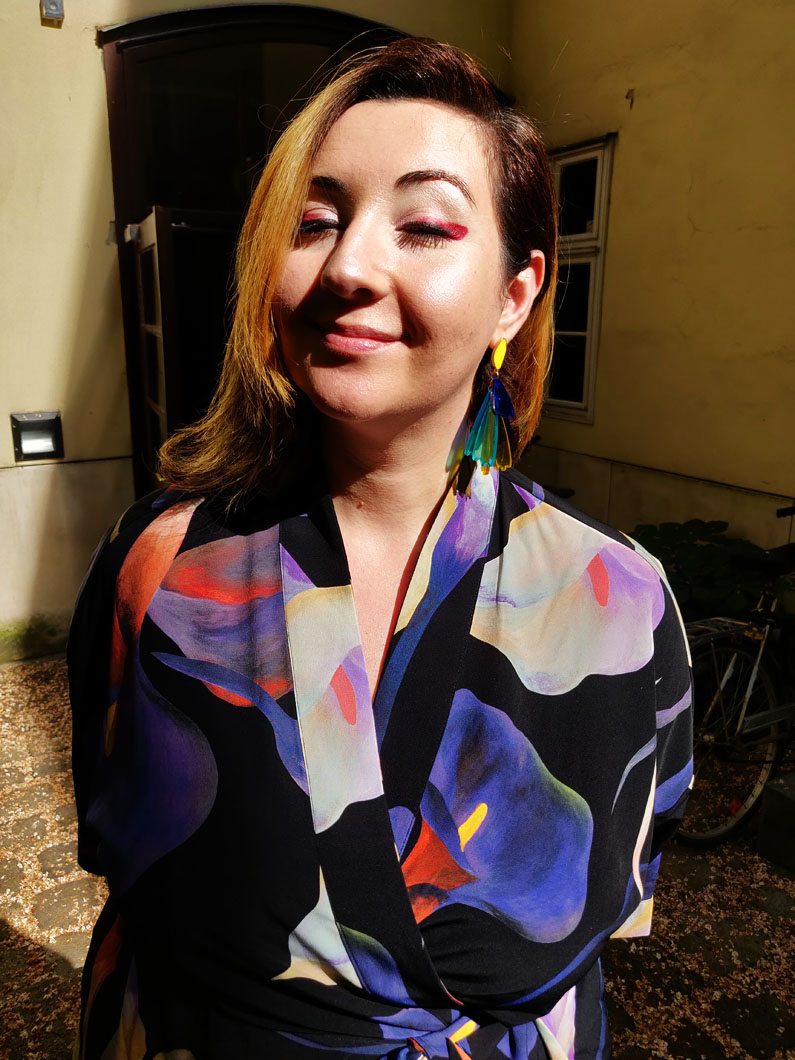 My sun-flirty earrings by BijouBrigitte
Bottom line I love this dress. I am definatelly gonna wear it a lot. I bought this Play Net Dress by WEEKDAY, so I wear it underneath this kimono dress because whenever I sit in a chair my thighs sneak out to socialize with my friends 😛 . They have it in white as well, I got the black one. Unfortunatelly I couldn't find my dress in their online shop but I also like these ones, check them out if you are interested. The Layna Dress and the Pedal Dress .
Sooooo, feel free to tell me what you think! I have 3 more outfits for you and I would love to know your thoughts so far! You can always comment here below the post or on my Instagram page!
Thank you for being here with meeee! You could always push the small bell button to get a smaaaaaaaall notification message everytime a new post is online!
I cyber pat pat your heads till next time we meet again!
Byyyyye!!!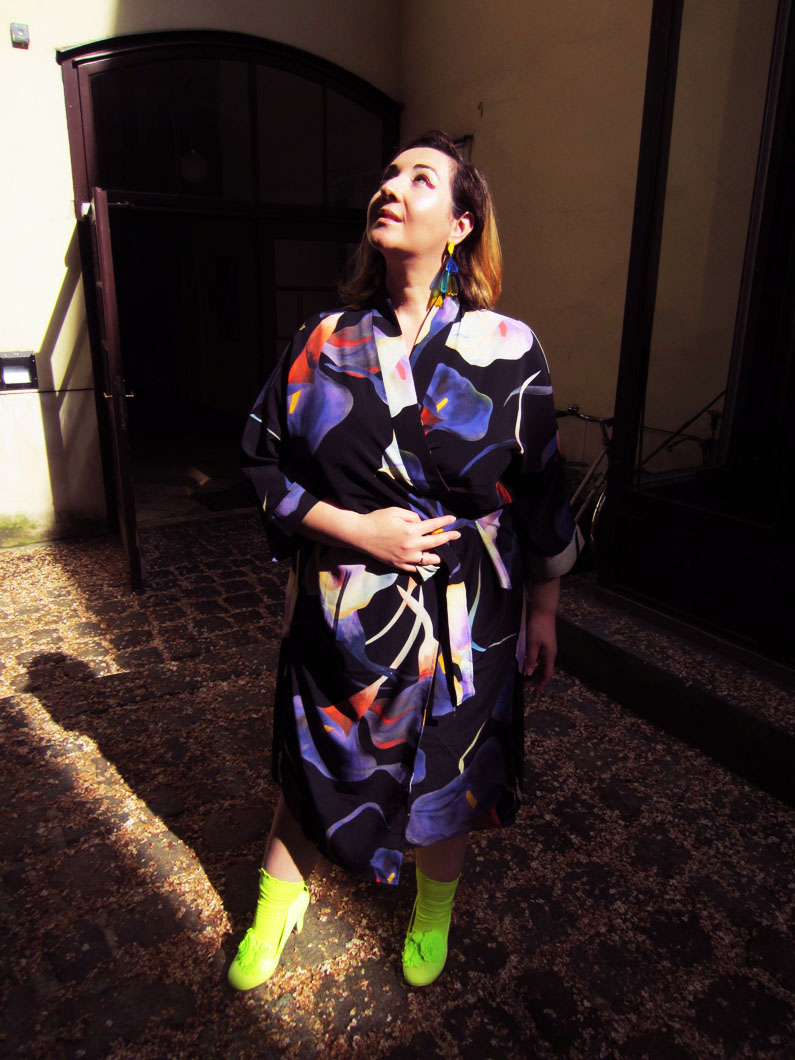 *backstage* Is it gonna rain?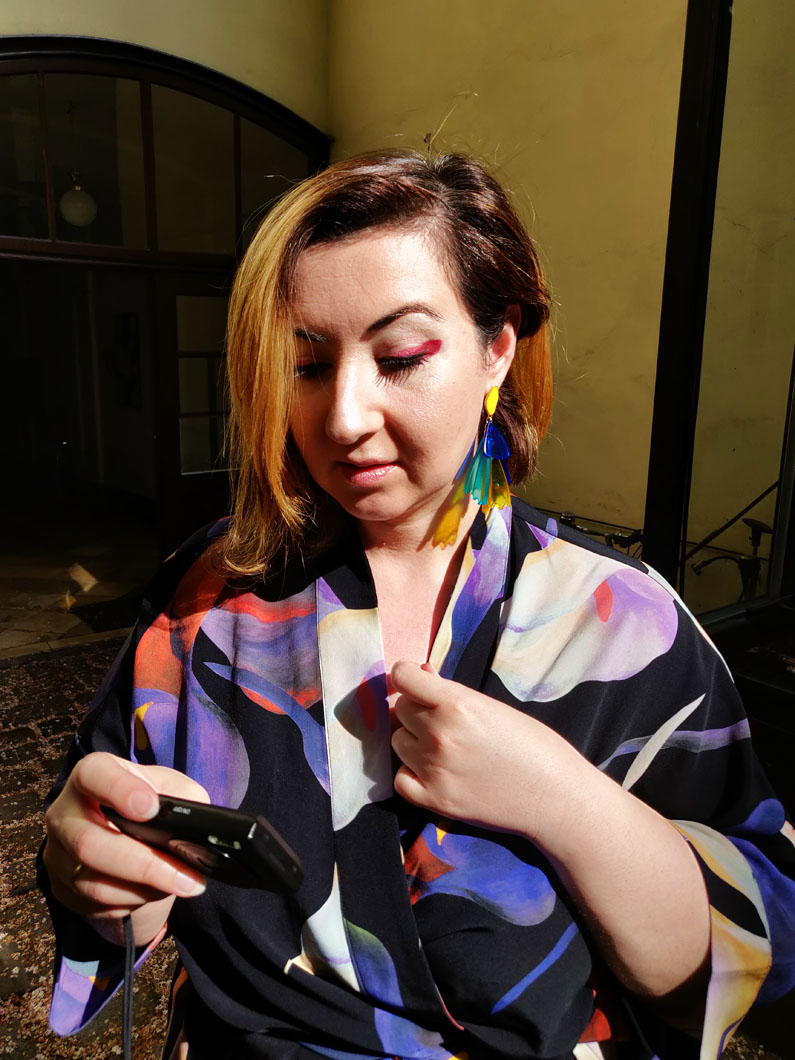 *backstage* Let me check what you got.