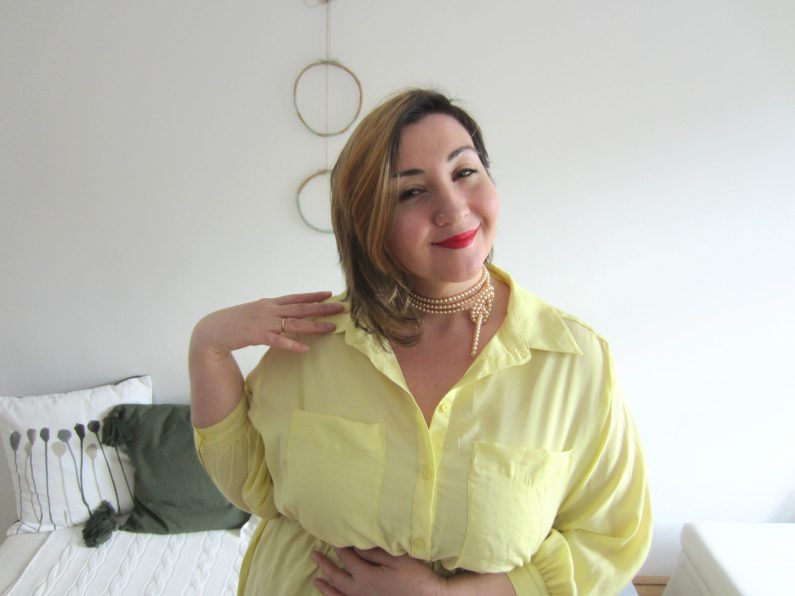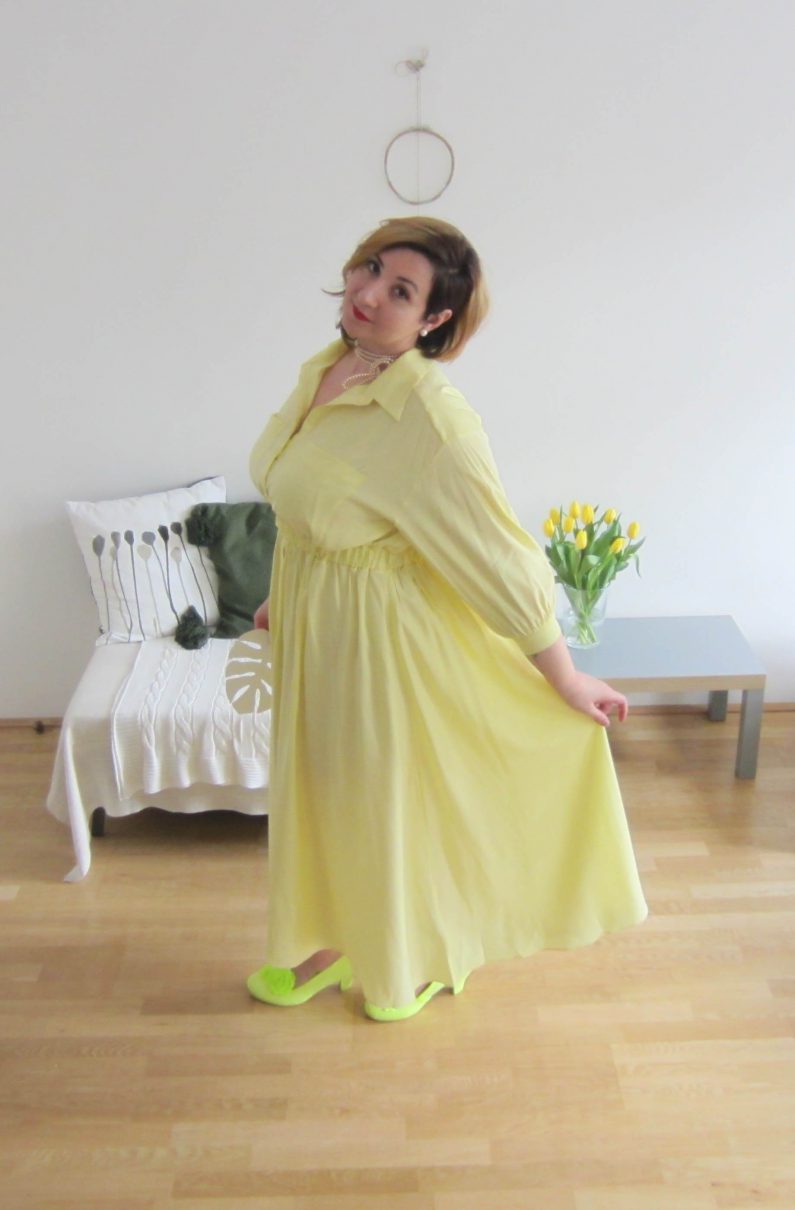 The Neon Pumps meets The Perfect Dress Project keeps going on and this time I wanted to try a 'ton sur ton' outfit. So, yellow it is!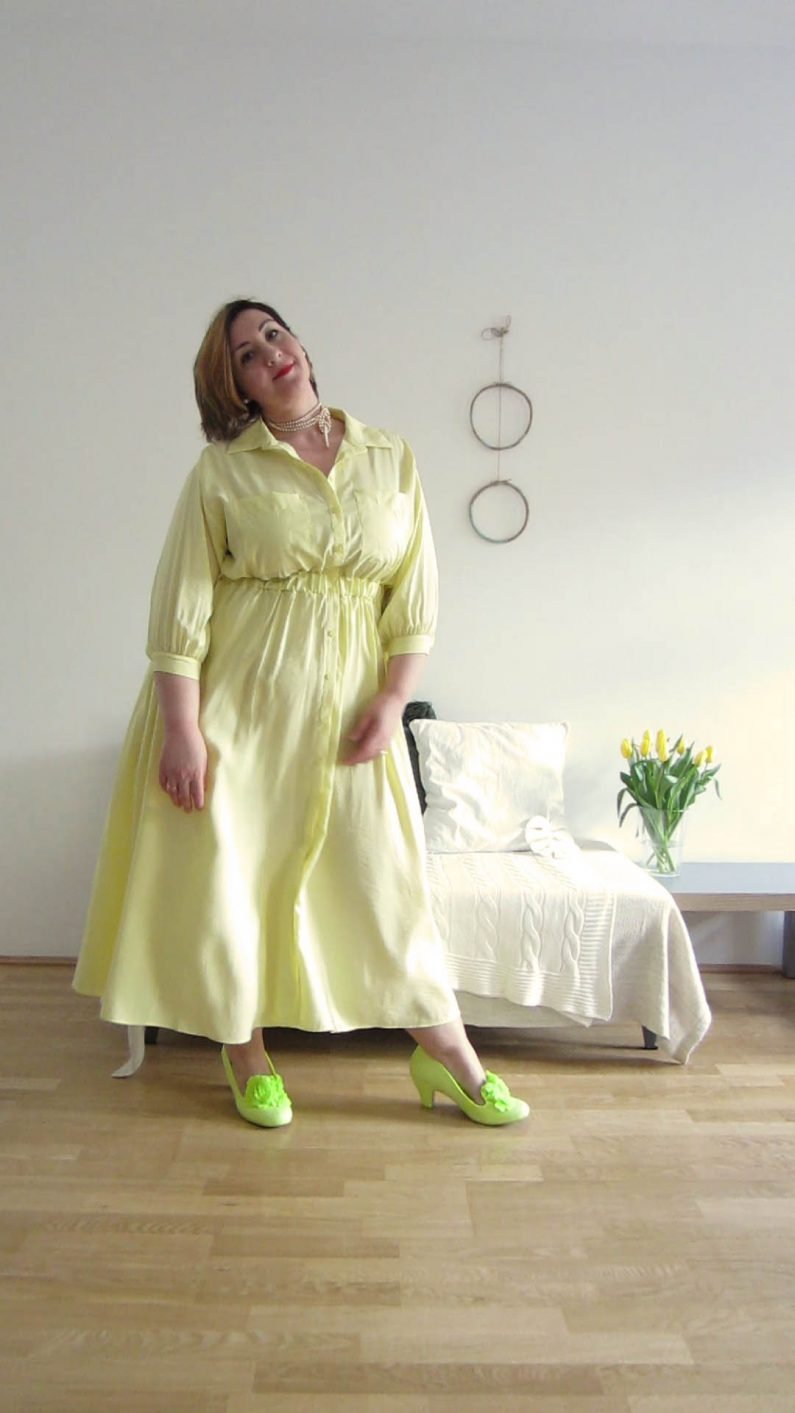 This is another H&M dress! I bought it online in size 48 (I couldn't find it in a psysical shop). For some reason H&M, at least here in Vienna, seems to keep their bigger sizes just online. ANNOYING. Because I have to order the dress, wait like few days for it to arrive (their orders arrive very very fast though) and then in case it doesn't fit me I have to return it. Pretty much a week for me just to try a dress... Me don't like...Also this time I was a bit confused cause I never got a confirmation email which usually comes couple of minutes after you place the order (I ordered this one on a Friday evening) so I had to email them, try to reach them over their chat-window in their site -which you can use only if you speak German- and finally call them (the girl didn't speak english but was super nice) in order to get my answers. Phew...
Aaaaanyway...To the happy stuff now 😛 This Yellow Dress has buttons - yay,  pockets, and 3/4 length sleeves which are my most favorite sleeves ever 😛 . Also, its flared skirt's length is veeeery flattering.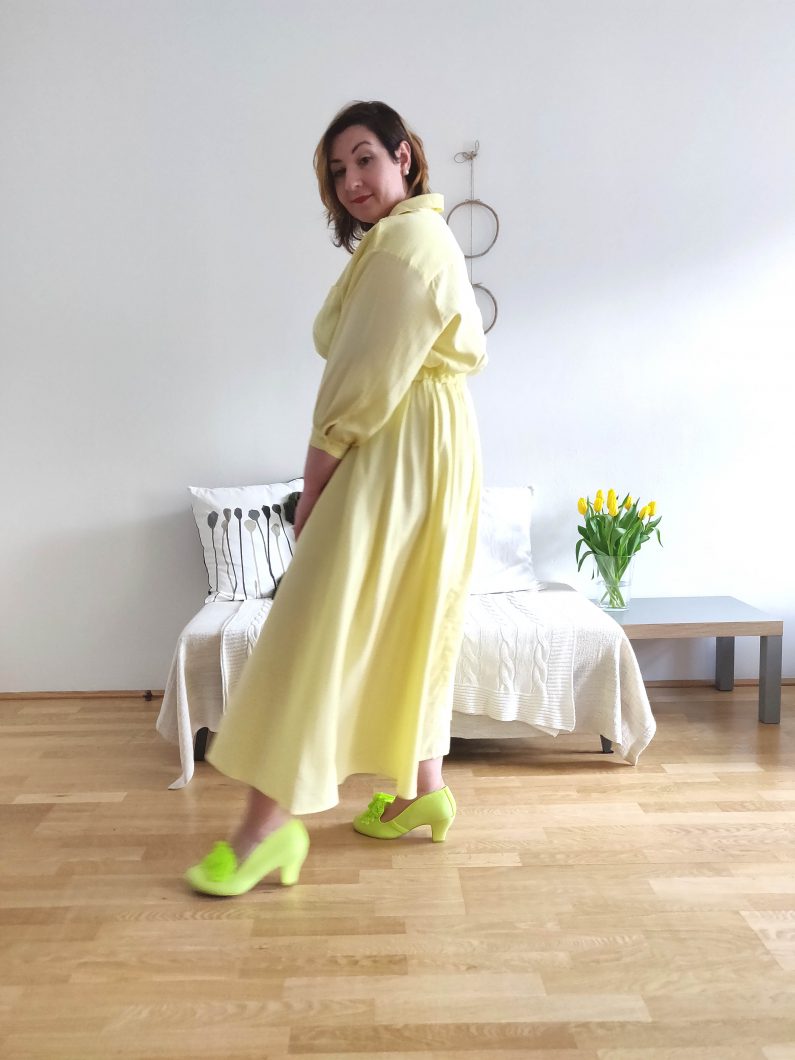 BUT you definitely need a chemise, (I bought this one from H&M in the size XL, beige, and it fits great) because the dress is kinda see-through especially under the sun 🤣
The fabric is veeeery pleasant to touch, very airy and follows the body's movement. I really like its quality. The color is amazing, fresh, summerish and sunny! I love how it fits me, I like the elastic-band waist, I believe it looks nice on my waist. I would ADORE it even more if there weren't any pockets on the upper part for this specific event. It's ideal though for a casual outfit, I love it.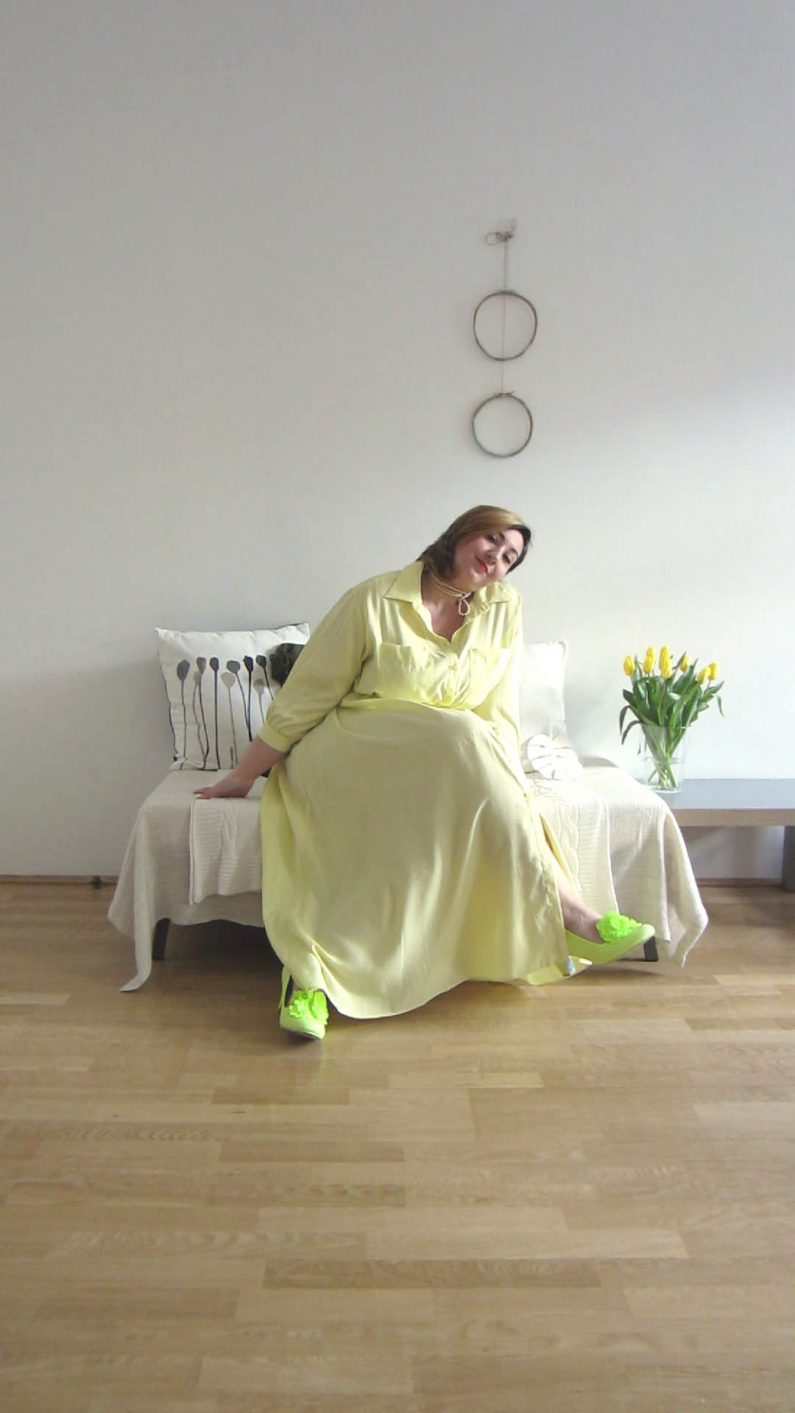 I accessorized this outfit with some pearls (they aren't real pearls,don't get excited 😛 ) and a red lipstick! I was looking for a statement necklace or huge pair of earrings in a yellow hue but unfortunately I couldn't find anything while I was walking around today.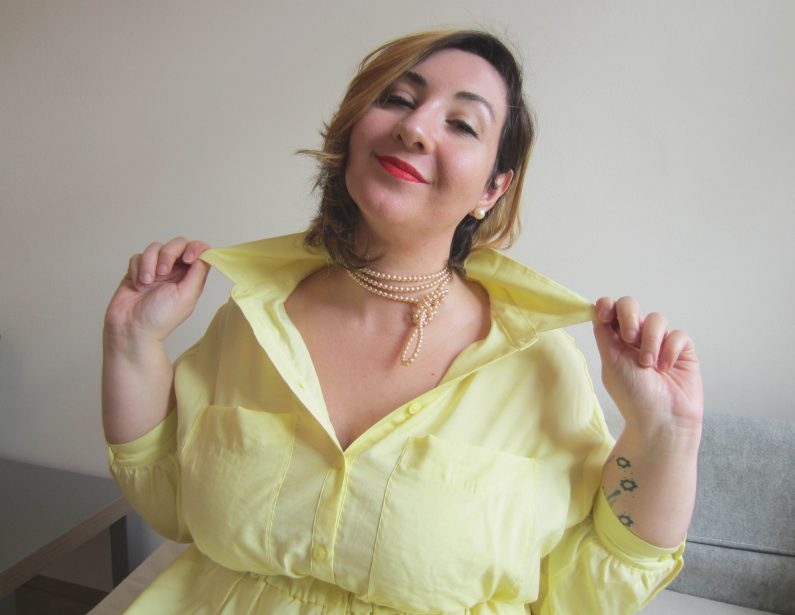 Backstage:
This week I tried couple of faaaaaancy dresses in C&A and I would say that I kinda like the green one, what do you think?? I sized down  and it looked way better on the upper part 🙂 I'm still bit concerned though of the tattoo+priest situation if I go bare- arms 😛 .
*Thank you Lady Butterfly for taking the picture for me!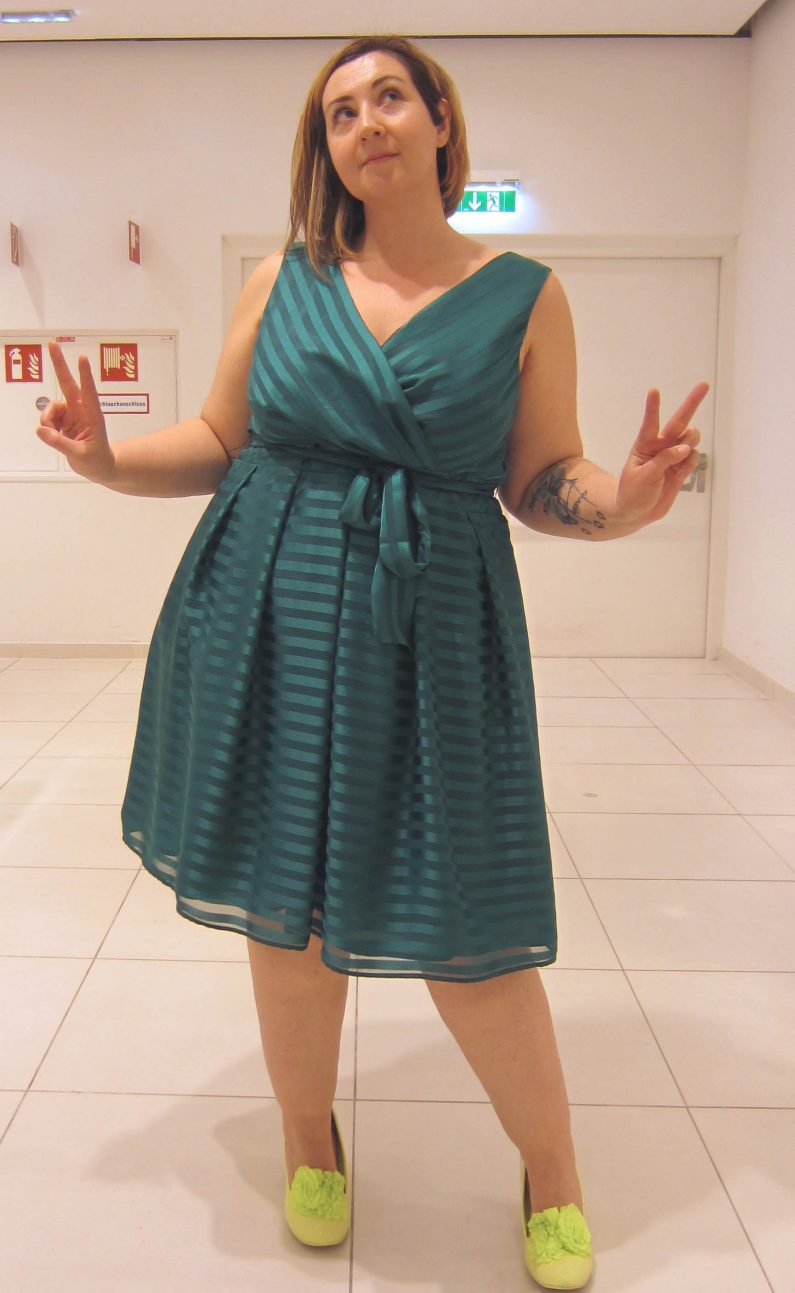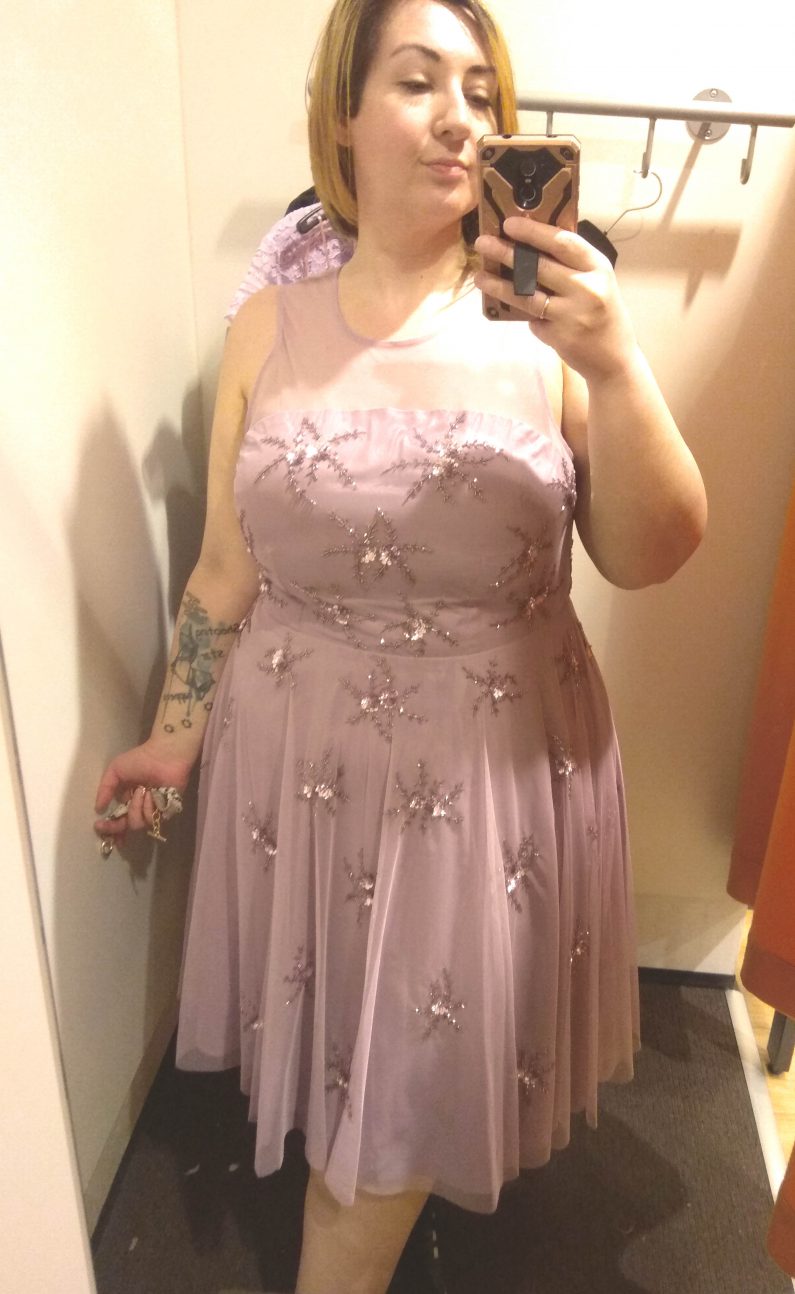 This was my Yellow Dress! Next week another one is coming and let's see how it goes 😀
Thank you for being here with meeee! You could always push the small bell button to get a smaaaaaaaall notification message everytime a new post is online!
And pleaseeeee let me know what you think of the dresses so far by leaving a comment bellow!
I cyber pat pat your heads till next time we meet again!
Byyyyye!!!